Life by the Brook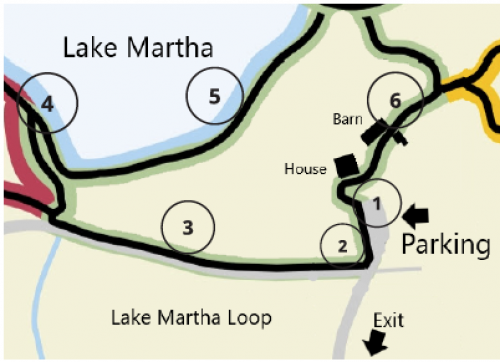 A self-guided outdoor tour of Uniacke Estate Museum Park
Follow the Lake Martha Loop trail, starting at the Welcome Board.
Welcome to "Mount Uniacke", built in 1815 as the summer home of Richard John Uniacke. The name refers to his grandfather's  estate  in  County Cork, Ireland. Uniacke was born in Ireland in 1753 and came to Canada  at age 20, in 1774. He was a lawyer, politician, and served as Attorney General, working for the British government in Nova Scotia for 49 years.  He married Martha Delesdernier and they had 11  children.  After Martha's death, he married  Eliza Newton, with whom he had one son. This estate was owned by 4 generations of the Uniacke  family. It was sold to the Province of Nova Scotia in 1949, including all  original contents and  2500 acres. Learn more by reading the Welcome Board.
There were only 2 main roads in Nova Scotia in the early 1800s – one from Halifax to Windsor (this Post Road) and an offshoot  to Truro. Mount Uniacke was a 4 1/2 hour carriage ride, or 2 1/2 hour sleigh ride in winter, from Halifax. It was the most notable landmark between Halifax and Windsor.  In 1816  a regular stagecoach service began between  Halifax and Windsor. It carried 6 passengers, who paid $6.00 each, return fare. Speed averaged 5 miles per hour. Horses were changed every 12 miles. Passengers were expected to walk in difficult areas.
Although Uniacke had visitors at his house, it was not a travel stop. There was one such stop in Mount Uniacke, at what was known as Pence's farm (where the school is). This inn provided food and shelter for travelers and stabling for horses. Another stop for travelers was the Homestead Farm Inn on Etter Road.
The site of the village of Mount Uniacke was said to have been given to Norman Uniacke when his father died in 1830 and it remained in the family until 1859 when it was sold to Richard McLearn. McLearn developed the land by building his home and others around the railway. By 1858 there was a train from Halifax to Windsor (a 3 ½ hour journey).
You are walking beside one of Richard John Uniacke's main fields. Although he was primarily a lawyer and involved in politics, he had always had an interest in agriculture. By Uniacke's   own admission, only about   500 acres of his 11000 acres could be cultivated, but even this is an exaggeration. This area is about the poorest soil in all of Nova Scotia – it has a mixture of swamp, rock, acidic soil and forest.  Uniacke still spent huge sums clearing land and trying to cultivate it. It was said that for every rock that Uniacke picked up, he put a dollar down.
Lord Dalhousie noted in 1817 that Uniacke was planting potatoes and sowing oats. He didn't believe much would grow there. Uniacke did have success with turnips. 
Animals were kept in the field in front of the house and prevented from wandering onto the front lawn by a ha-ha wall – a trench/ditch dug into the landscape, lined with stone so animals could not cross and the view from the veranda was not interrupted by a fence. You can see the remains today.
Uniacke left Ireland in 1774, first stopping in the West Indies and then Philadelphia. Moses Delesdernier, a Swiss trader, met Uniacke and asked him to accompany him to Nova Scotia. Uniacke would later marry Delesdernier's daughter, Martha.
They sailed from Philadelphia to Hillsborough near present day Moncton. 1775-76 was a time of unrest with the American Revolution just beginning. Uniacke and Delesdernier were trade partners who were loyal to the King. During this time, Uniacke was arrested for treason. It is unclear what Uniacke was doing. It is said that he was playing both sides, unsure of what to do.
This is where we pick up the story of why Uniacke built his estate here, likely a bit exaggerated now. While being transported to Halifax for treason, the party stopped at this spot. "Uniacke, who was in irons, requested the sergeant, a fellow Irishman named Lawlor, to take off the shackles, pledging his honour not to escape. Lawlor did this and Uniacke, after wandering about, declared the surroundings resembled his family's estate in Ireland and swore to Lawlor that he would one day return and build a house here." Pg. 62 of The Old Attorney General.
Uniacke arrived in Halifax during the winter of his 23rd birthday. He was soon walking the streets, free. He was let off because the officials in charge of the trial knew of his brothers and relatives' prominence and loyalty to the crown.
Uniacke decided it was unwise to stay in Nova Scotia, so left for Ireland to complete his legal training. In early 1781, Uniacke returned to Halifax to begin his very profitable political and legal career, as he was able to pay off creditors and purchase properties on Hollis Street and Argyle Street.
This Georgian style house was built between 1813-1815. It is thought to be the work of architect John Plaw. Some of Plaw's signature features that can be seen here include: an over sized foundation, a broad triangular pediment, and a curved wall (found in the upper hall).
Based on writings from Lord Dalhousie and Bishop Plessis, it may be that the construction of the house and surrounding outbuildings cost as much as $80 000. It was positioned on the property so it would be a commanding sight from the Post Road.
One of the first visitors, Bishop Plessis, wrote about the estate. He noted that there were baths, billiard room, balconies, barns, stables, domestic quarters, arbours arranged along the lake. A description of the Mount circa 1821 notes 3 small buildings behind the main house, a building near the orchard and gardens (hothouse location), a wharf-like structure at the end of the allee, and a building at the edge of the lake.
Reverend Robert Fitzgerald Uniacke inherited the estate upon the death of hisfather. The estate included 6000 acres, the house, its contents, outbuildings. There were also two cottages for his nephews that were located between the gate and the railway station.
By 1891 the barnyard was laid out like a courtyard: the barn (the one now standing) had a horse stable, cow barn, threshing floor, sheep barn, and workshop under the loft. There was a gate across the back for cows to enter. There was also a coach house and print shop with bulls eye glass that was once in the green house (the Carriage House). The front had on each side a stately elm tree, then behind them, a wide gate for vehicles. The harness room was on the left. The door of the harness room faced the door of the horse stable and between the two was the "shade" for horses. The old cottage (caretaker's) finished the front of the quadrangle.